Bitcoin (BTC) hits a new all-time high and is already trading above $67,600. The crypto asset reaches this price after staying strong for the last 24 days above $60,000. According to experts, this is due to various reasons that have conditioned the fluctuation of the largest cryptocurrencies by market capitalization.
The cryptocurrency market analyst at BitBank bank in Japan, Yuya Hasegawa, argues that the rise in bitcoin is due to two reasons. On the one hand, it considers that it was caused by the fall in real bonds of -1.09% in the last ten years and, on the other hand, it responds to generalized global inflation.
As long as the headlines in the media about rising inflation in Latin America, the United States and Europe continue, the fluctuation of bitcoin could be favored, according to the analyst.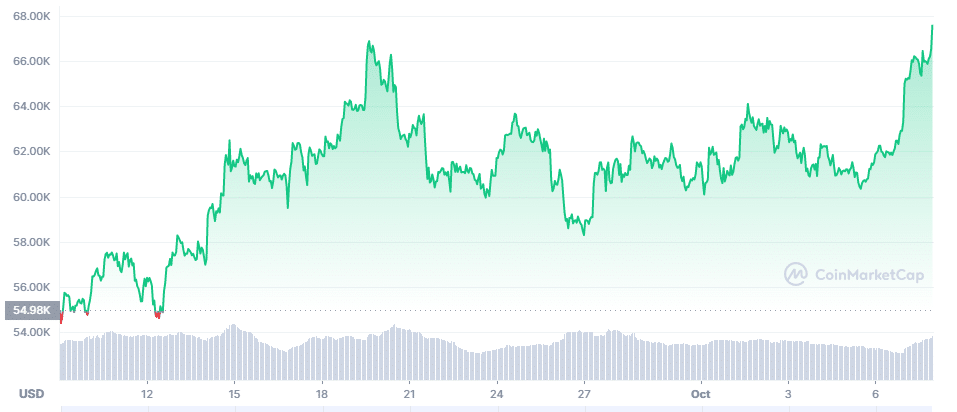 According to Daniel Kukan, a member of Crypto Finance AG, there is one more factor that has pushed the cryptocurrency up. The expert attributes the growth to high funding rates, which have averaged 0.0250% last week, according to data from Coinglass.com.
In turn, the upward movement could be due to the impact of whales – the largest cryptocurrency investors. According to data tracked by the Chainalysis firm, these heavyweight investors have accumulated almost 200,000 bitcoins in the last week of October. If they sell them in mass, they could cause a loss.
The price of bitcoin has managed to consolidate
Kukan believes that bitcoin has achieved a "healthy consolidation" in price. Explain that the fact that it has hovered above $60,000 for the past three weeks demonstrates a typical bull market pause.
According to the PricedInBitcoin21 portal, bitcoin has exceeded the market capitalization of silver, valued at USD 1,362 billion. This calculation is based on the value of the maximum supply of bitcoins issued, which is a controversial metric as it takes into account the millions of lost bitcoins. On other portals, such as CoinGecko, the cryptocurrency's market capitalization is still below $1.3 billion.
According to analysts Hasegawa and Kukan, in the long term, demand remains growing. Although, as Criptoreportage reported, speculators claim that there could be a small breakout of bitcoin's bullish activity in the coming days. In fact, there are those who believe that the price of cryptocurrency is overvalued, like Willy Woo.